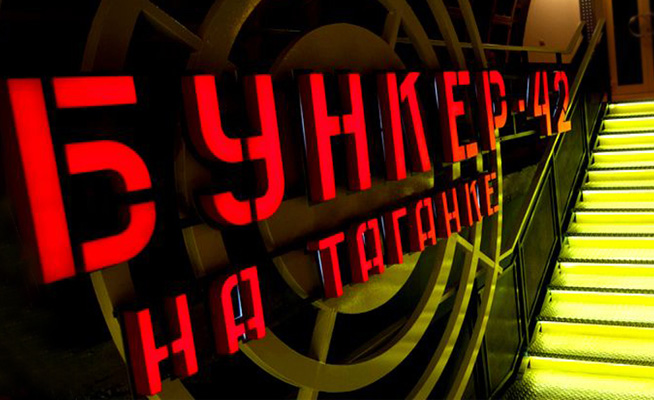 Welcome to Bunker 42 web-site!
In the centre of Moscow at the depth of 65 meters below the ground is located a unique underground facility! There are equipped conference halls, a restaurant, Cold War Museum and a cinema hall in it operating for our gests, visitors and clients.

We offer you individual and team tours about the facility. At the depth of 65 meters underground you will explore one of the most top secret military objects of the USSR – Bunker 42 at Taganka. During our tours you will pass through narrow secret passages of the facility, see long-distance connection equipment, know about the types of the USSR weapons. You will also watch a Cold War period film.

We would like to offer you a unique opportunity of participating interactive games. You will explore the facility more profound and see its unusual design. The total area for games is 1200 square meters. And you will surely have unforgettable impressions!

Huge underground space and exquisite architecture of the facility make different events held here such as (teambuilding, conferences, corporative parties, seminaries, weddings, birthday parties) top rate! We will be happy to help you hold a seminary, corporative or private party. Your business partners would absolutely appreciate your taste and originality. Your friends and colleagues will be fascinated. You can choose our cinema hall with digital cinema projector, "Bunker 42" restaurant, conference halls, a banquet hall.

We invite travel-agencies, event-agencies, film studious, art associations. Underground city architecture, its passages and galleries can help you to bring to life all you plans and ideas.

Welcome to cooperation!

Bunker 42 team.